I'm participating in a 7 day Hospitality Dare. Each day I'll post about how I responded to the dare. See the end of the post to see how you can take the dare!
Day #2 Dare: Bring the gift of hospitality to your own family today. For dinner or dessert, light candles and put something special on each person's plate (a note, chocolate kisses, a favorite poem, etc.)
For today's challenge I did put a little note in my husband lunch bag. It had to do with a private joke between us about square buns that I'm not going to share:-) He liked it and that's all that matters!
I would like to share with you something I did over the weekend that I think really exemplifies this challenge.
My oldest son had a birthday Saturday and since his wife is out of town we invited him over for a birthday celebration.
Now this boy does not eat sweets. No candy, cake, cookies, brownies, ice cream...NOTHING! NONE! NADA! My husband and I joke that if he and his brothers didn't look exactly alike we'd swear he had been switched at birth!
I'm ashamed to admit that during his growing up years we always had birthday cake because that's what you do on a birthday. Right? He'd always take a little piece and pick at it while the rest of us pigged out!
This year I decided to do something different. Something just for him.
I made a bacon cake. Not the sweet and savory type that is so popular right now but a real savory bacon cake.
Bacon Birthday Cake!
I think he liked it!


The cake was a variation of a breakfast casserole that I make. Instead of baking it in a 13 x 9 casserole pan I used a 9 x 9 round cake pan.
The icing is just ranch dip and the chocolate sprinkles is bacon that I
ground up in my coffee grinder. (Probably not a great idea since it was a
chore to clean the grease out of the grinder!)
The Recipe
Bacon Cake (or breakfast casserole)
Makes 1 round 9 x 9 or 8 x 8 cake layer
Ingredients
2 pounds of bacon
1 cup all purpose flour
2 teaspoons baking powder
1 teaspoon salt
3 eggs
1 cup milk
2 cups shredded cheddar cheese
1/2 stick of butter (to grease the pan)
Method
Fry the bacon till crisp. Drain on paper towels and cut or break into bite size pieces.
In a large mixing bowl combine the dry ingredients and stir together.
Add the eggs and the milk and beat till smooth. Stir in the cheese and bacon.
Melt the butter in the baking pan.
Pour in the bacon cheese mixture.
Bake at 375 for about 30 minutes. Test the cake by inserting a wooded skewer or toothpick near the center. It should come out clean.
To make this in to a cake I had to cool it completely before I put on the icing. The icing was really just for show. To eat the cake I scraped most of it off and reheated the cake in the microwave.
This does make a really good breakfast casserole. Double the flour, milk, eggs, baking powder and salt and bake it in a 13 x 9 pan. You can use sausage in place of the bacon if you want.
I will have to admit that I really wanted a piece of chocolate cake and ice cream but my son enjoyed his bacon cake. And that's really what matters.
It's never too late to accept the Hospitality Dare.
Go over to
For all the details.
I dare you!
You can see what I did to meet these dares:
Hospitality Dares and Challenges

Linking up with:
A Stroll Through Life - Inspire Me Tuesday
Hope in Every Season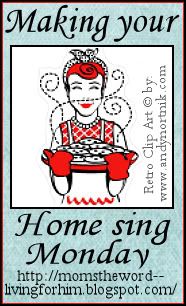 Missional Women Faith Filled Friday
http://christianmommyblogger.com/fellowship-fridays-61/